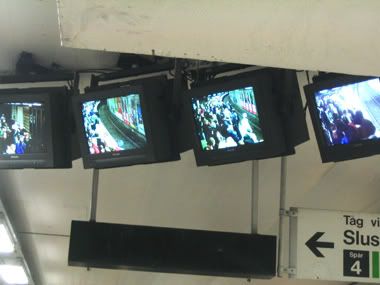 I tried baking again, but it wasn't really as succesful as the last time. My chocolate chip cookies taste good, but they turned out flat and kinda crumbly. Booo! It was still fun tho and mmmm that dough was yummy :]
Do you know that song "Without You" from Rent? The first few lines go something like this:
Without You
The Ground Thaws
The Rain Falls
The Grass Grows

Without You
The Seeds Root
The Flowers Bloom
The Children Play

The Stars Gleam
The poets dream
The Eagles Fly
Without You

The Earth Turns
The Sun Burns
But I Die
Without You
The song is about two lovers, but it is sortof how I have been feeling the last couple of days. I keep expecting there to be something about my dad's illness in the newspapers, like it is something that should concern everyone. Everything that happens has the sentence "but/and my dad is going to die" attatched to it. "Yeah little girl you can have more raisins on your cornflakes, but my dad is going to die". "This table need to be wiped, and my dad is going to die". "The weather is nice today, but my dad is going to die." "My camera is finally on the way, but
my dad is going to die
". If it's not currently on my mind, it is always lurking there in the back.
It's so terrible! He's not even 50 yet, and he already has uncurable cancer. He is the youngest of four brothers, all still alive. Him and his mom had their 25th anniversary last year. My brother is 17 and my sister is just 12, and sometime in the not so far off future, he is leaving is all. He won't be allowed to live anymore...he won't be allowed to do anything anymore! No thinking, no feeling,no nothing. I'm not religious, and I don't really believe in any sort of afterlife.
On the other hand I was thinking yesterday on my way home from work that 50 years is kindof a long time too. A lot of people don't get to even live that long. And considering what a great life he has gotten to have, I should just feel thankful instead. And proud, of everything he has accomplished in
just
under 50 years. There has never been any kind of drama or troubles in our family, and that's more than you can say about most families. Right? I think so...
I finally got to talk to him on the phone yesterday, which helped a lot. Before that I had been thinking of him pretty much non stop, and it took a lot of strain off my back to be able to talk to him. I talked to him today as well, when he was home for the day (he's going back to the hospital tonight tho, in case he needs help or painkillers). He feels tired and drained (literally, they've been sucking his blood non stop apparantly), but still a lot better physically than he has for the last few weeks. We talked about how nice it was that we don't really have anything unsaid in our family, now that something like this happens. No quarrels to make right or anything like that. I'm flying home next weekend and I'll prolly stay in Norway a week, all Easter. Apart from that, it looks like I'm gonna go see my aunt who lives in Stockholm tomorrow. She's my mom's sister, but our family is pretty close and she's shaken up by everything as well. So yeah, that will be nice...
Thanks again for all the journal replies, emails, phone calls and text messages. A lot of you say that you wish you could help, but knowing that you care and are there for support helps a lot in itself. I'm doing pretty well considering, and I guess that's a lot because I don't at all feel alone.
Don't be afraid to talk to me like you normally would, I'm not gonna break down on you. Life needs to go on, and since you are part of my life you can't stop on me :]